About Us
In keeping with the era, we employ small children to make
our jewelry. We meet the minimum criteria for work standards used
during the industrial revolution.
From production to shipping, our workers are well trained
ensuring that your order gets out on time. Even if it means they
have to work overtime with no breaks.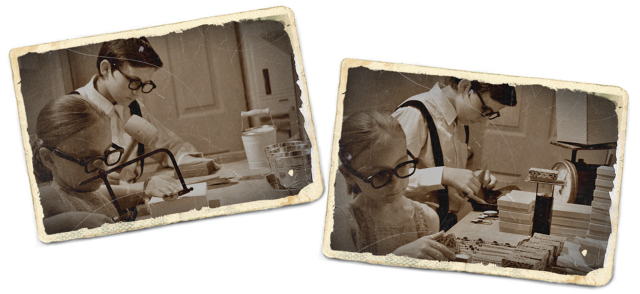 Our workers are carefully trained for an extensive
nine-month period, studying the company manual of policies
and systems, until they know the business inside and out.
Our Assurance of Quality
Each specialist is schooled to understand both quality control
and best design practices. Below is our quality control specialist and
our size-to-weight ratio specialist. We guarantee that our designs
are manufactured with the utmost attention to detail and quality and
that our largest earrings, while generous in size, are light in weight.
About the Jewelry
Circa 1890 marries old world tradition with contemporary design elements. Drawing inspiration from original period design, each piece is hand soldered, hand worked, and finished in an antique gold plating.
With an ardent appreciation for 19th century detail, artist Patricia Baranyai began designing her vintage style collection in 1991, using inspiration from the turn of the century. While the designs are not exact reproductions of original pieces, many of the designs follow closely to that of the period.
Patricia takes a fresh approach to creating a collection that captures both the luxury of the era and the fashion influences of today. The collection ranges from traditional to modern-vintage, always incorporating a touch of yesteryear.
The jewelry is created with Austrian Swarovski crystals, Czech crystals, Gemstones from around the world, Mother of Pearl, freshwater pearls as well as some of Patricia's original artwork.
Using traditional methods that were used for costume jewelry making during the late 1800's to the early 1900's, each design in the Circa 1890 collection is hand soldered using die struck brass components. The brass components are largely designs from the era that have been in production for over 100 years, and still being produced today. Many of the pieces require precise multiple layer soldering and manipulation of the metal to fit the design.
All the jewelry is handcrafted, in house, and guaranteed for quality and durability. Each piece of jewelry is finished in antique gold and coated with a protective jeweler's lacquer for long wear. This durable finish is maintenance free. Removing the jewelry prior to swimming, or showering, will maintain its heirloom quality appearance for years to come.
Circa 1890 jewelry is rich in historical meaning and symbolism. You are sure to find a story in each of our designs. With a passion for all things beautiful, and meaningful, we put great attention to design detail, offering your customers the best in quality craftsmanship.
From our hands to yours... Circa 1890 jewelry
---